Skydiving in Arizona is considered a number one location both for the weather and the awesome views. Arizona features some of the world's most breathtaking natural vistas like the Grand Canyon with the Colorado River, Horseshoe Bend, or Saguaro National Park. What better way to experience the unforgettable thrill of freefall than over a beautiful natural landscape. As one of the best United States skydiving regions, our motto at Skydiving-Locations.com for Arizona skydiving is simply: "Don't forget to breathe!"
Check Groupon for AZ Skydiving Discounts up to 90% off!
Skydive Arizona All Year
Unlike many other states, skydiving in Arizona happens year round. Climate and weather conditions make the state ideal for skydiving nearly 365 days a year. The climate is hot and dry with little rainfall and low clouds. Likewise, the winds are quite mild throughout the year. Mild winds, little rain, and no low cloud cover eliminates nearly every hazardous weather condition that can cause skydiving jump cancellations.
Arizona winters are mild and dry, usually ranging from 40–75 °F. While many other states must close their skydiving facilities during the winter months, skydiving in Arizona winters are just as popular as any other season. All-in-all, as far as climate and weather go, Arizona is perfect for skydiving.
Arizona Air Balloon Rides and More Flight Experiences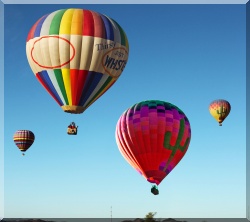 In addition to just skydiving Arizona, the climate and vistas make it a wonderful place for countless other flight experiences. Here are some other popular adventures: Glider Rides over Phoenix and the Sonoran Desert, Scenic Helicopter Tours, Phoenix Hang Gliding, Tucson Hot Air Balloon Rides, Flight Lessons, Paragliding Arizona, Aerobatic Rides, and Much Much More…
If you have already been skydiving in Arizona then you already know it is one of the best states to skydive. If you have never skydived in Arizona and are planning on a trip there, or if you are fortunate enough to live in this beautiful state, it's time to challenge yourself to try something wonderful, exciting, and outrageous: Skydive Arizona!
Arizona Skydiving Resources
Arizona Official Tourism Guide